The solidarity call-out and the complaints filed by ECAP at Leith Jobcentre today resulted in positive news: the last minute cancellation by the DWP of the unfair Genuine Prospect of Work test on our comrade, an unemployed EU migrant worker who has been in the country working for almost a decade. Though this is only a temporary reprieve, this shows solidarity and direct action works and will become increasingly important as they ramp up towards Brexit. In the next weeks and months ECAP is going to continue its support both EU and Non EU migrants as they fight against the hostile environment policies that deny their basic welfare rights.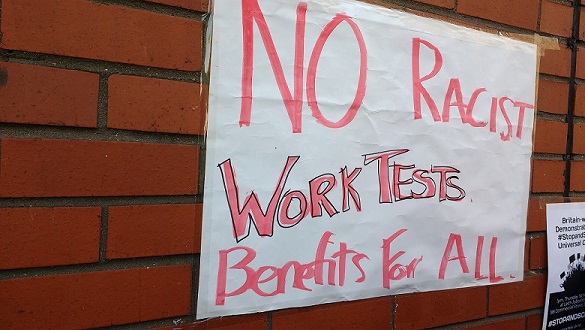 Following nearly two weeks of phone calls and letter writing – including two official complaints – on 23 February ECAP activists demonstrated outside Leith Jobcentre in solidarity with the unemployed worker. NO TO RACIST WORK TESTS and BENEFITS FOR ALL! were among the slogans.
Genuine Prospect of Work Test
The Genuine Prospect of Work Test (GPOW) is one of many discriminatory attacks and benefit cuts on citizens from the EU and European Economic Area. What's more in this case the application of the test was doubly unfair as the unemployed worker concerned should not have been subjected to the GPOW, even by the existing unfair rules. This is because he was receiving contribution-based Jobseekers Allowance which has no right to reside or GPOW requirements. Further there was overwhelming evidence that the claimant had "EEA retained worker status" and therefore the GPOW was totally inapplicable at this stage – but Leith Jobcentre had refused to pass onto the decision-maker the copious evidence which the claimant had presented proving this.
For those that have never heard about this test, the requirement to provide "compelling" evidence of imminent employment is ridiculous as it basically requires a Job Offer that would extend the benefit for a further few weeks at most. This clearly shows the completely unfair nature of this test, which demands that claimants not only be looking for a job but to be actually able to demonstrate that they will obtain a job in the next one or two weeks, and only in this case will extend further their benefits. The legality of this test has been successfully contested as the requirement is contrary to European law. A recent legal case has looked at the definition of "genuine prospects of employment" and "compelling evidence" and has decided that – contrary to what the DWP staff still claim – this means only that you have to look for work and have a genuine chance of getting it.
In other words EU migrant Jobseekers should not have to demonstrate their prospect of obtaining work any more than any other unemployed person. Following several legal decisions, activists argue that the Genuine Prospect Of Work test has no legal validity, and it has been successfully contested through appeals and reconsideration procedures. However it is still being routinely used by the DWP to deny people benefits, and in some cases causing people to become homeless as failing the test results in the complete withdrawal of all housing benefit.
Have we forgotten that migrant workers are human beings too?
ECAP is shocked, but not surprised, to learn the ways in which migrants who have lived and worked, like our comrade, for almost a decade in the UK are being treated – as if they have no rights and no welfare whatsoever. As we battle for a world without borders and where all have free access to food, shelter and the necessities of life, we must reject all divisions and insist on benefits for all. We need to fight back against the increasing restrictions and attacks on EEA and EU migrants, and go on the offensive to insist that all – irrespective of immigration status – have full and equal rights to access benefits, employment, health care, housing and all services. We need to make the state's repressive policies unworkable. Brexit has sanctioned a new consensus for anti-migrants policies extending the violence of borders in the realm of everyday life, regimenting workplaces, the education sector and the welfare sectors as hostiles environments, where discrimination act now as a fully functioning state policy. Let's make Brexit unworkable!
STOP THE GPOW: Solidarity Beyond Borders and Discrimination
If the GPOW is still being applied to you, you should seek advice and contest this test at every stage. Groups like ECAP can support you in contesting such measures and we are aiming to build further collective resistance to DWP bullying of EU and EEA migrant workers. It's not only the GPOW – EEA Retained Worker status is being widely unfairly denied, not only to unemployed workers but also to migrant workers who become sick or who become pregnant. If you are called in for a GPOW, a habitual residence test or any similar appointment it's vital to seek support, arm yourself with the facts and be accompanied at the interview.
We invite all interested in getting involved in such struggles to contact ecap@lists.riseup.net
---
You don`t need to be a lawyer or an expert in welfare rights to contest these decisions, but we do need to discuss together how we can resist these policies and create significant networks of solidarity between migrants and local communities.
If you can help, even for few hours a week or occasionally with translating, accompanying, writing and phoning on behalf of claimants, get in touch via email or our social media or come to ECAP Tuesday drop in advice between 12 and 3 pm at Ace.