Please note that benefits / legal information can change frequently and if relying on information it is important to check it is up-to-date. The information on this page is current when we post it but we are all volunteers and we cannot guarantee our efforts to keep the page up-to-date are always successful. Please look out for the notices stating when the page / section was last updated and double-check anything important for your situation. Sources for current info include our Links page.
Covid-19 Benefit Changes
Psycho-emotional Support
A Worker's Guide to Coronavirus
Womens' Aid
Scottish Welfare Fund

Disability Benefits & Coronavirus Changes

Universal Credit
Better Than Zero 'Reinstatement'
Reel News Campaign 'Shut the Sites'
Nurses, Health & Care workers: Pay Rise
Excluded UK Campaign
Job Retention Scheme
Agency Workers 'layoffs & furlough payments'
Agency Workers' & Furlough
IWW Government Furlough Scheme
Scottish National Helpline
Mutual Aid Trans Edinburgh
Edinburgh Action for Trans Health Solidarity Fund
Disabled People/Social Care
For Those in England & Wales

Young People

Government/Council Support with Food

Community Support in Edinburgh (Food etc.)
COVID-19 Support & Solidarity Flyer
Housing
Fuel & Energy Bills
International Resistance
---
Covid-19 Benefit Changes
There have been many changes to benefits related to the Covid-19 pandemic, and the benefits rules are continuing to change. Before relying on any information it is important to check it is still current. The information on this page is current when we post it but we are all volunteers and we cannot guarantee our efforts to keep the page up-to-date are always successful.
The information at the following two links is regularly updated:
Child Poverty Action Group : collection of pages on Benefits and Coronavirus https://askcpag.org.uk/publications/-216847/benefits-and-coronavirus
UK Government information on Employment and Benefits Support https://www.understandinguniversalcredit.gov.uk/employment-and-benefits-support/
The Benefits and Work Covid-19 Updates page is also worth checking out https://www.benefitsandwork.co.uk/coronavirus-updates
It is even more vital during the pandemic that claimants and workers fight for our needs, especially as Governments world-wide put the profit economy before health. Join us at our Jobcentre stalls and other activities, check out our Facebook https://www.facebook.com/edinburghagainstpoverty for news #NoSanctions #NoConditionality
Psycho-emotional Support
New Worker's Guide to Coronavirus Released
The initiative by Liverpool SolFed offers stripped-down must-knows about getting by amid State incompetence and bosses' greed, from furloughs to care rights, sick pay to self-employment. The group will be regularly updating the guide here and welcome people getting involved in the project. Check out the guide now.
Womens' Aid
Domestic Abuse helpline 0800 027 1234 Open 24/7.
Scottish Welfare Fund
The Scottish government have announced:
£45 million will be added to the existing Scottish Welfare Fund which makes Community Grants and Crisis Grants available to those in immediate need. This more than doubles the current £35.5 million fund, which is administered by local authorities. They will be given more flexibility in how it is used to ensure they can fully support people in financial crisis, including workers in the 'gig economy'.
The guideline that Crisis Grants would normally be limited to three per claimant per year has been scrapped. Shirley Anne Somerville, Cabinet Secretary for Social Security and Older People, stated in the Scottish Parliament on 27/3/20 :
The regulations governing the Scottish Welfare Fund allow a local authority to make more than 3 payments to an individual in a 12 month period if it considers there are exceptional circumstances. We have written to practitioners in each local authority confirming the provision of an additional £45 million for the Scottish Welfare Fund and noting that we consider the current circumstances to be exceptional.
You apply through your local council. As well as grants the Scottish Welfare Fund can do foodbank referrals. In Edinburgh ring 0131 529 5299 or go to CEC council page here.
If knocked back contact ECAP for support and pressure your local councillors. Also, check out our SWF page.
Claim to the Scottish Welfare Fund
Claimants in Scotland needing immediate support should apply to the Scottish Welfare Fund via their local Council. The Scottish Government has more than doubled the funds for the SWF and widened the eligibility to support people hit by coronavirus lay-offs. Edinburgh Council state "If you are no longer able to work or have had hours reduced, and do not have any savings or other sources of income, we may be able to help."
So councils SHOULD be making more payments. In Edinburgh apply to the SWF by ringing 0131 529 5299 or online. You can apply for a Crisis grant or a Community care grant plus get a foodbank referral. If knocked back contact ECAP ecap@lists.riseup.net for support and solidarity. And hassle your local councillors.
Disability Benefits and Coronavirus Changes
Check out this Child Poverty Action Group page for updates on disability benefits changes related to Covid-19.
PIP and DLA reviews and reassessments will gradually resume from this month [July], starting with those claims which were already underway when they were suspended. The DWP say they will shortly be writing out to some PIP and DLA claimants asking them to complete paperwork to resume their reviews, reassessments and renewals.
If your paperwork has already been returned, you may soon hear from an assessment provider.
Universal Credit
Workers sacked due to coronavirus denied benefits by Universal Credit chaos – Fight Back!
Newly sacked workers are experiencing a kick in the face as they try to claim benefits through the chaotic Universal Credit system. New claimants told the TV news on 25 March they were on the phone for hours without getting any reply.
Universal Credit's "online by default" system has broken down. Even the government admit on their Coronavirus and Claiming Benefits page "Universal Credit users are experiencing extended waiting times for gov.uk Verify", but claimants reported that in reality the online ID verification system just does not work. Many then believed they were unable to make a claim. In fact the excellent Frank Zola blog has revealed that you can still claim Universal Credit without needing to use GOV.UK Verify to confirm your identity/address history.
Universal Credit & Verify
You do NOT need to use Verify – DWP has alternatives to confirm claimant ID. When making a new UC claim there is no entitlement condition to use GOV.UK Verify to confirm your identity/address history. When making a new claim instead of using Verify you can select the option "I cannot do this online". You can then add a note to your UC Journal asking to get a telephone call-back to undertake your first new claim appointment, as many claimants are finding it almost impossible to make appointments over the phone. This information has been supplied by Frank Zola via his very useful blog.
Tens of thousands desperately needing support are being left with nothing.
As groups like ECAP have long argued the Universal Credit system is deliberately designed to deter claims. In "normal" times it can take hours to get a phone response. The 5 – 6 week for payment is inhuman. Sanctions are a constant threat. We need to organise; a starting point being to insist the £20 per week increase in Universal Credit be made permanent, but then to aim to stop and scrap Universal Credit.
The benefit system has undergone swift change due to the Coronavirus (Covid-19) outbreak. Download the 'Disability Rights UK Handbook Coronavirus Supplement' now.
Act Now To Win Reinstatement
Of course while a payment from the Scottish Welfare Fund is an immediate help, in the longer run it is totally inadequate, we need to fight for much more. As Better than Zero say: "ACT NOW – All workers who've been fired should get in touch with ex-colleagues and together contact ex-bosses to urgently demand reinstatement and 80% of salary that the government has said you are due."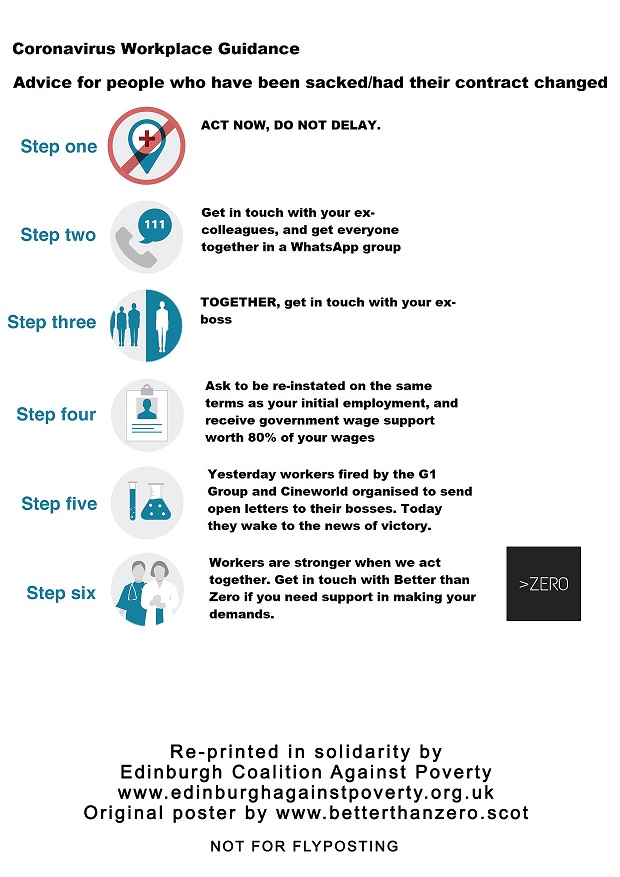 Check out the poster on the left from Better than Zero. Advice for people who have been sacked/had their contract changed.
Save Lives – Shut Down Non-Essential Work
To save lives we need to organise to force non-essential work to shut down. Reel News say:
"Workers in Britain have already been successfully taking or threatening action over coronavirus, from stopping dismissals, through demanding improved hygiene and protective equipment, to winning full sick pay so that workers can afford to self-isolate. In some countries workers have already gone further – striking to force irresponsible employers to shut down non-essential workplaces. More collective action will be needed as government and many employers fail to adequately protect us all."
#ShutTheSites Reel News National Campaign
During the Covid-19 lockdown, hundreds of thousands of construction workers are being forced to go to work, putting themselves, their families, their communities and millions of key workers at risk.
ALL non-critical sites need to be shut NOW and EVERY worker needs to be paid. Join the campaign.
[8 January 2021] In view of the growing covid crisis, 'Shut the Sites' call for all non-essential work that can't be done at home to stop and all workers to be paid.
NURSES, HEALTH & CARE WORKERS: 15% PAY RISE & VACCINATIONS/PPE – NOT CLAPS
Nurses United is a grassroots organisation of Nurses for Nurses. We're campaigning to protect ourselves and our patients. We believe in free and universal public NHS.
Excluded UK Campaign
A new campaign looking to support those who have not been able to access help from the government during the coronavirus crisis. Check out the website here.
Job Retention scheme
A lot of specific info on the job retention scheme can be found here. Also, check out the official government guidance.
Agency Workers & Coronavirus Lay-Offs
Agency Workers & Statutory Sick Pay (SSP). Agency workers are classed as employees and entitled to SSP if wages over the qualifying limit.
"Only 'qualifying employees' are entitled to SSP. Social security legislation uses a slightly broader definition of 'employee' which includes those who pay Class 1 National Insurance Contributions. Agency workers are also deemed to be employees."
Agency Workers & Furlough Payments
Agency workers might be eligible for 'furlough' payments.
"If you've been employed (or engaged by an employment business in the case of agency workers) for a full year, employers will claim for the higher of either:

– the amount you earned in the same month last year

– an average of your monthly earnings from the last year

If you've been employed for less than a year, employers will claim for an average of your monthly earnings since you started work. The same arrangements apply if your monthly pay varies such as if you are on a zero-hour contract."
Agency Worker's & Furlough
From Better Than Zero Scotland, here's how to navigate the treacherous route to furloughing. Although agency workers can technically be furloughed, they are having to battle to find out who to contact to request it – the employer or the agency.
Claiming the Government Furlough Scheme
Advice sheet in English and Spanish from IWW UK.
Scottish National Helpline for highest risk group
In Scotland, a new national helpline is available for those who don't have a network of support but who are at high risk of contracting COVID-19. The helpline is 0800 111 4000 – and will initially operate 9 am to 5 pm.
Mutual Aid Trans Edinburgh (MATE)
MATE was set up during the COVID-19 pandemic to provide direct support by and for trans and queer people in Edinburgh. We are focused on trans- and queer-specific support needs, and also to support people who are isolated from their local communities. Check out the website here.
Edinburgh Action for Trans Health Solidarity Fund
From EA4TH: "Our solidarity fund is now open again so please get in touch if you are experiencing financial difficulties. Our solidarity fund is NOT limited just to people struggling due to COVID-19, we also continue to give out funds for anything trans health related people need help with. If you are a trans person struggling for cash, no matter the reason, please get in touch! and please share! edinburgh@actionfortranshealth.org.uk or pm us on Facebook."
Disabled People and Social Care
In times of crisis the rights of disabled people are the first to be slashed, despite us being amongst the categories most in need of particular support in the coronavirus pandemic.
The coronavirus lockdown has left many disabled people "at the end of their tether" as they struggle to access personal care.
The UK government's emergency Coronavirus Act, according to Disability Rights UK, amounts to a suspension of the Care Act 2014 and of parts of the Mental Health Act. It undermines the rights of disabled people to social care by removing the duty local authorities have to provide it. It also relieves councils of the duty to fulfil the social, health and social care needs listed in individual disabled pupils' education health and care (EHC) plan. The Coronavirus (Scotland) Bill contains similar measures.
The effects of this legislation are already apparent. Inclusion Scotland have reported they have already heard of care packages being withdrawn by local councils (Inclusion Scotland newsletter 5 April 2020) and DPAC have denounced a situation in which disabled people who have been instructed to self-isolate have been denied priority in receiving food deliveries because they are not on the 'Clinically Extremely Vulnerable' Government list. DPAC are mounting a legal challenge.
The Scottish Human Rights Commission is making recommendations for the:
"COVID-19 Guidance: Clinical Advice" to safeguard the rights of disabled and older people. They insist the Guidance must explicitly forbid the application of blanket policies in areas such as "Do Not Resuscitate" decisions and likewise must forbid "basing decisions to refuse access to critical care on the basis of age or mental or physical disability which is not clinically relevant to the prospect of survival."
Working in Social Care During the Pandemic
Cowboy care companies are rampant in the UK, it's time for health and social care workers to stand up and demand better and safer working conditions.
If you are an IWW member who works in social care and your employer is not meeting their obligations towards you – or if you would like to join the IWW and have us assist you with your workplace issues – please get in touch with us healthworkers@iww.org.uk
For Those in England & Wales
DPAC reports a new service available in England & Wales – a free advice helpline launched by Lawstop. The 'advice line' is live now, offering free support in all community care matters, which have seen recent changes since the passing of the Coronavirus Bill. Lawstop hope to offer support to all those affected. Individuals eligible for legal aid can access the service by calling 02081 502 588 or emailing info@lawstop.co.uk.
Young People
Youth Link Scotland Resources for Young People including information for young carers. Information for Young Carers (including Young Carer Grant). Young Carers' Package & Carers' Allowance.
Government / Council Support with Food Deliveries
The Scottish Government is not currently planning to reintroduce food boxes because people shielding are not being asked to stop going to shops but to shop online if possible.
For extra support getting food, medicine and other essentials, call the National Assistance Helpline on 0800 111 4000 (Monday-Friday, office hours).
Read the latest guidance on shielding on the Scottish Government's website. This includes information on vaccination; working; going back to school; medical prescription delivery etc.
The Scottish Government has set up a SMS shielding service for the latest updates about shielding. You can join this service by sending a text from your mobile phone with your Community Health Index (CHI) number to 0786 006 4525.
Above paragraph updated February 2021.
If you still need support, and you live in Edinburgh…..
email Edinburghvulnerable@edinburgh.gov.uk or call 0131 200 2388 during working hours Monday to Friday to discuss how the Council may be able to support you. If you call outwith working hours and it is an emergency, call the Care and Response service on 0131 200 2000.
If you try and access support from the Council in this way and do not find them helpful please contact ECAP for support and solidarity.
Community Support in Edinburgh area – Food Deliveries + more
This section "Community Support in Edinburgh area – Food Deliveries + more" checked and updated March 2021.
Edinburgh Voluntary Organisations Council (EVOC) have an online Directory, called the Red Book, of third sector organisations/local groups etc, which provide services in the area. While they no longer have a specific directory of local groups/projects offering COVID 19 support, the Red Book can be used to to help connect people with the support and services they need and bring groups and organisations together. You can search under headings such as Food Support to see what is available.
Also see EVOC Covid-19 Resources. See also Covid 19 and communities pages, aimed primarily at community groups,
Food and Resources Bank – Oficina Precaria / Precarity Office Scotland / PIE
Oficina Precaria are running a food and resources bank at ACE every Thursday – food, coffee/tea/juice, toiletries, hygiene products and some children's clothes are available free. The food is mainly non-perishable – tins, pasta, beans, pulses etc – but sometimes there is fresh food too.
The Food and Resource Bank is OPEN every Thursday from 10:30 – 2pm at ACE. No referral or prior booking needed, just turn up. Please note that Covid safety measures are in place: masks, hand sanitiser, only one person per household inside the premises please, and only one person visiting the foodbank at a time. You do not need to provide any paperwork or 'proof of status' for immigrant or DWP status. ALL are welcome. There's also an Emergency 1-Stop Shop 11:30 – 1pm and 3:30 – 4:30pm providing advice and support. Free soup is also available during these hours both also available each Thursday.
[Oficina Precaria Food and Resources Bank info confirmed correct March 2021. See Oficina Precaria Facebook for updates on foodbank and other planned solidarity initiatives]
Edinburgh Coalition Against Poverty
If you need food support, and are unable to get to the Oficina Precaria foodbank at ACE on a Thursday, please contact ECAP at ecap@lists.riseup.net or leave a message with contact details on 0131 557 6242. From late March / early April we will have some supermarket vouchers for people in need of food / basic supplies. If you are unable to leave the house to get shopping we have some resources to do the shopping for you and deliver to your home. Please do get in touch, we will get back to you asap, but please remember we are all volunteers.
Refugee Community Kitchen Edinburgh
"Free groceries and free soup in Edinburgh. Please contact us if you need our services, without referral necessary.
We support displaced people in Northern France and homeless people in London and Edinburgh. We give people more than a hot meal, we give them a place to gather and connect. Somewhere to recreate a community – providing spaces for medical and legal services, safeguarding groups and other support organisation and people in need to meet." Contact rckedinburghoutreach@outreach.com Facebook
Edinburgh Settlement Project Shop
34a Haddington Place, top of Leith Walk, Edinburgh Call 07805 274004.
Operates a food sharing project with donations of food from shops etc. Normally Open from Monday to Saturday 10 am to 5.30 pm. Due to current lockdown restrictions it is only open for food sharing project on Friday from 12 noon. They close when food donations run out. Once restrictions ease they will open again Monday to Saturday.
Greater Pilton/North Edinburgh
Community helpline 0131 356 0220 Mon to Friday 10 am – 4 pm. Low Income Families Together based at the Muirhouse Millennium Centre
Muirhouse – Fidra Court Community kitchen, Pennywell Medway EH4 4SE. Open Wed + Friday 9.30am – 1pm, and Thurs 10am – 12. Fidra Community kitchen is pleased to be able to offer a free weekly bag of groceries per household, plus a bag of fruit/veg.
Empty Kitchens, Full Hearts
They do not means test their clients, and are here for everyone facing reduced safe access to food. You may want to consider signing up for a pack even if you are still employed but your employment status is under threat due to COVID-19. They deliver to all over Edinburgh inside the ring road, The Facebook page is here. Email food.ekfh@gmail.com or call 07895 347157.
Solidarity not Charity
Support & Solidarity in COVID-19 Emergency
The coronavirus pandemic means peoples' solidarity is more vital than ever. We cannot rely on politicians to protect us – they are the ones who cut the health service and care system, causing suffering through austerity.
ECAP have published a leaflet SOURCES OF SUPPORT & SOLIDARITY IN COVID-19 EMERGENCY. Access to food and benefits, disabled peoples' right to care, and housing rights are all covered. The leaflet urges action on these and more areas like PPE, redundancies, shutting down non-essential work etc and gives the contacts of various activist groups.
Housing
Eviction Ban: The Scottish Government has extended the ban on evictions until 30 September 2021. Please see Shelter's website for the changes to required notice periods and eviction information.
If your landlord tells you to leave your flat, you should stay put and refer them to the legal changes introduced during the Coronavirus crisis. If they are still trying to make you leave this is illegal. You should get in touch with Living Rent's Member Defence Coordinator ASAP.
Can't Afford the Rent?
Living Rent is fighting for a rent waiver for all tenants. And Living Rent advise:
If you are not able to pay your rent, we would advise you to notify your landlord of your financial situation immediately in writing (e-mail), explaining your change of situation and negotiate a rent suspension or a rent reduction. Join Living Rent, and get in contact with a Living Rent Member Defence team, who can support you during this negotiation. The best way to negotiate with your landlord is with your Union by your side.

https://www.livingrent.org/covid_19_faqs
If you have any problems with your landlord we recommend Living Rent tenants' union – here is the Living Rent statement on the eviction ban.
Hygiene Kills The Virus Campaign
Living Rent is demanding the Scottish Government act to ensure social landlords properly clean all communal areas. Check out 'A study of the multi-storey blocks in Muirhouse during the Covid-19 pandemic'.
Living Rent Covid-19 FAQ's, edinburgh@livingrent.org, Facebook @livingrentedinburgh, Living Rent Website.
Rent & Benefits
The Child Poverty Action Group report:
In addition, the worker's support package includes an announcement that there will be, 'Nearly £1bn of additional support for renters, through increases in the generosity of housing benefit and Universal Credit. From April, Local Housing Allowance rates will pay for at least 30% of market rents in each area.' Social Security (Coronavirus) (Further Measures) Regulations 2020, SI 2020 No.371, regulation 4
Fuel & Energy Bills
If you're having problems with your heating or energy bills due to the coronavirus pandemic, see End Fuel Poverty Coalition for advice. Our links page also has links to fuel poverty help & advice.
International Resistance
Struggles are growing world-wide, as workers and communities fight for people's health and safety against the drive by governments and businesses to put profits first and recklessly restart the economy.
Good sources of news are Fever Struggle, Reel News Facebook & their website. And contact info@reelnews.co.uk to hook into the international network….
[Last update: partial January 2021]