Please note that benefits/ legal information can change frequently and if relying on information it is important to check it is up-to-date. The information on this page is current when we post it but we are all volunteers and we cannot guarantee our efforts to keep the page up-to-date are always successful. Please look out for the notices stating when the page/ section was last updated and double-check anything important for your situation. Sources for current info include our Links page.
In ECAP's experience the DWP are regularly denying benefits to EU/EEA migrants, even when they are entitled under the benefits rules. "Hostile environment" practices are plunging many EU citizens into a desperate situation where after many years working in the UK they are left penniless when they need support. ECAP is fighting several such cases at present.
Now the Child Poverty Action Group (CPAG) has publicised a new legal route for such claimants to obtain the support they need and to which they are entitled. Successfully applying for "settled status" gives EU/EEA citizens access to benefits on the same basis as UK citizens. Crucially, achieving settled status is significantly more straightforward than achieving "permanent right to reside", the previous way to achieve benefits parity with UK citizens. "Settled status" requires living in the UK for at least 6 months in any 12 month period for 5 years in a row, without the need to meet further qualifying conditions related to employment etc.
EU/ EEA citizens who have been denied benefits due to the DWP's interpretation of right to residence, and who have now gained "settled status", should make a new claim for Universal Credit, presenting their "settled status" situation as evidence of qualification.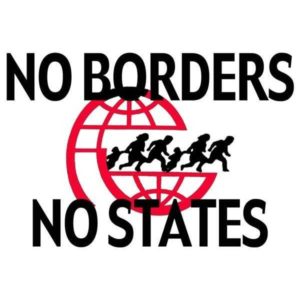 The DWP has been contesting some claims based on "settled status" but the signs are that claimants with welfare rights back-up are winning cases. Now the DWP has published new guidance for Universal Credit about settled and pre-settled status.

This states "Where a claimant has been granted Indefinite Leave to Remain i.e. Settled Status under the EU Settlement Scheme, they will satisfy the right to reside element of the Habitual Residence Test for the purposes of claiming Universal Credit." This means EU/EEA citizens with "settled status" have entitlement to benefits on the same basis as British citizens.
A settled status application could take some time and will not apply back-dated, so it is still important to also contest negative benefit decisions under the existing benefits rules. It's also important to contest any suspension or termination of Housing Benefit following negative DWP decisions on residency – local councils have the legal requirement to make their own decision in this situation.
Nevertheless for EU/EEA citizens facing benefits problems it seems very important to apply for "settled status" as soon as possible (note that only registered immigration advisers can legally advise on settled status applications, ECAP advisers do not have this status). For avenues of support click here.
Social Security for all
ECAP fights for benefits for migrants because we fight for social security for all. We fight for everyone to have access to what they need just because they are a human being. To mount an effective resistance to cuts and austerity we must reject the divide and rule lies which only serve our exploiters. As an excellent article on the Interregnum site puts it:
We need to highlight the common sources of the plight of both British and migrant workers, and foreground the objectives of solidarity, community power, and the overthrow of this economic system.
"We need to organise to develop community power from the bottom up, free from political parties and outside of the dominant institutions which exist to give an illusion of freedom amid soaring inequality. We need to fight for 'no borders', not 'better borders'. We need to fight for 'anti-capitalism', not 'better capitalism'…….. Solidarity is forged in collective action.
Through initiatives such as Living Rent, both migrant and Scottish workers fight in unison to improve their living conditions, targeting problems which equally affect them both. Radical trade unions such as the Industrial Workers of the World and the Independent Workers Union of Great Britain bring both migrant and local precarious workers together in a variety of labour struggles, showing that solidarity is stronger than division. In the same spirit of solidarity, locals unite with migrants against detention and immigration controls through initiatives such as the Unity Centre.
Solidarity against the hostile environment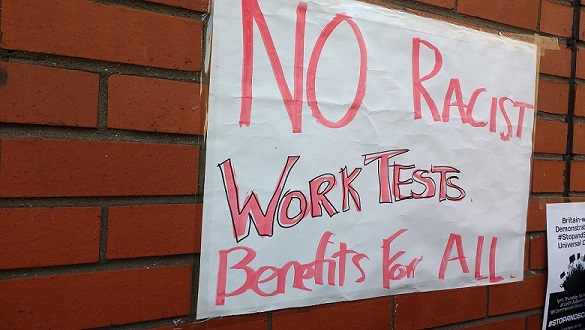 EU/EEA citizens often face difficult interviews in jobcentres over residency rights. ECAP accompanies claimants to such interviews and we often find the staff involved have not been trained properly and have little or no knowledge of what they are doing. Dont face them alone! You have the right to be accompanied to all benefits interviews.
Settled Status – The Legal Facts
Below is information from CPAG on the legal significance of these latest developments. CPAG write:
"In anticipation that the Draft Withdrawal Agreement would be agreed, the UK government introduced the EU Settlement Scheme as a way of implementing the rights, as set out in that agreement, of EU citizens and their family members to continue to reside in the UK after Brexit. This Scheme is already operating, has expanded to include all EEA nationals and those with derivative rights, and will continue regardless of whether, when, and how, the UK leaves the EU.
"Those obtaining 'Settled Status' (indefinite leave) under the EU Settlement Scheme can (at the time of writing) use this status to claim all benefits that require a right to reside – including, for example, universal credit, pension credit, housing benefit and child benefit." See full article
"Settled status should be granted to those who have been living in the UK for 5 years. Unlike acquiring a permanent right to reside under EU law, there is no need to show that the applicant has had a right to reside during that period. Pre-settled status should be granted to those who have not yet been living in the UK for 5 years, again with no need to show a right to reside under EU law. In both cases the Home Office should normally use data already held by the government to confirm that the applicant has been living in the UK."
"As settled status provides leave to remain under UK immigration law with no conditions, there should be nothing to prevent someone with such a status claiming benefits under the same rules as UK nationals. However, experience so far suggests that the DWP do not necessarily accept this and have disallowed claims where the only right to reside the person has is settled status. If someone with settled status is refused benefit because it is decided they have no right to reside, they can appeal this decision following a mandatory reconsideration, but CPAG has also produced a template judicial review letter that could be used when to challenge decisions in urgent cases.".
"Similar schemes apply for non-EU EEA and Swiss nationals. Advisers should remember that as applications to these schemes are under UK immigration law, both advice and assistance with applications should only be provided by advisers either registered or exempt from registration with the Office of the Immigration Services Commissioner (OISC)."
(above 3 paragraphs from monthly CPAG Advising BME bulletin)
Useful Links: Home Office information,OISC guidance
EU Settled Status – When You Can Apply
The UK Government website states:
"When you can apply: The EU Settlement Scheme is open. You can apply now if you meet the criteria. The deadline for applying is 30 June 2021….
…If the UK leaves the EU without a deal:
You will need to be living in the UK before it leaves the EU to apply. The deadline for applying will be 31 December 2020."
ELIGIBILITY FOR SETTLED STATUS – "To be eligible for settled status, you usually need to have lived in the UK, the Channel Islands or the Isle of Man for at least 6 months in any 12 month period for 5 years in a row. You need to provide proof of this when you apply."
PRE-SETTLED STATUS – regulations passed in May mean this does not give a right to reside for benefits purposes but campaigners such as the CPAG do not accept that this is necessarily lawful and are advising whether challenges are possible. The argument questions whether it's possible for the UK government to grant people a residence right and then say they not entitled to equal treatment with UK citizens. See here and if using the relevant Judical Review letter in Scotland, then follow this link.
More sources of support & information
Like ECAP, Oficina Precaria are based in the Autonomous Centre of Edinburgh and give support, solidarity and advice to migrants.
CPAG provide excellent advice, information and training for advisers on this and other benefits issues. For training and advice for advisers in Scotland see here.
EMERGENCY SUPPORT
EU/EEA citizens denied benefits for residency reasons are still entitled to support from the Scottish Welfare Fund which can make Crisis Grants, Community Care Grants and make foodbank referrals – ECAP recently supported an EU citizen to get a Crisis Grant, after he was first turned down from SWF Edinburgh.
Legal Note – the legal situation is liable to change at short notice and it is important to check the current situation.
Disclaimer – the political views in this article are of course those of ECAP and are not necessarily shared by the other organisations quoted such as the CPAG.
[Last updated: 19 May 2019]