The jobcentres are re-opening, mass unemployment is growing – we need to organise to resist. NO SANCTIONS, NO CONDITIONALITY was the message as Edinburgh Coalition Against Poverty held our second recent jobcentre stall at High Riggs on 18 August.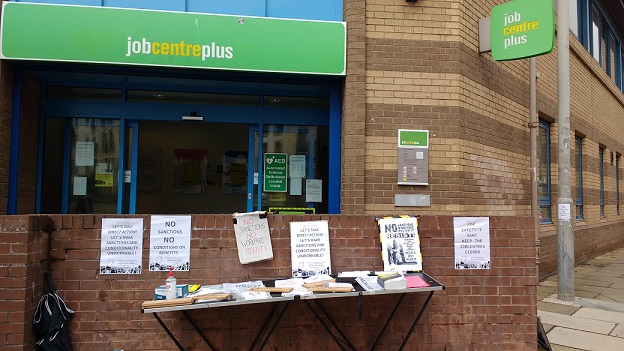 This stall was busier than the one two weeks ago at Leith, more claimants going into the jobcentre. We spoke to an EU citizen who had been trying to claim Universal Credit since the early days of the lockdown – but the online UC computer system was still saying NO. The problem centred around the online system not accepting his ID, the friends accompanying him explained. Related to this, his application, as an EU Citizen, for Settled Status, was also meeting problems and had not been granted.
We strongly recommended he contact Oficina Precaria who are based in the Autonomous Centre and qualified to give support to applicants for Settled Status. Pleased to have found solidarity, he and his friends departed with Oficina Precaria and ECAP leaflets and promised to be in touch.
It's vital that all EU Citizens, who could qualify, do apply for Settled Status. But it's also possible for EU citizens without Settled Status to be eligible for Universal Credit and other benefits – for example via "retained worker status". Anyone in that situation should seek support and advice. Don't just believe the DWP if they tell you that you are not entitled – they often break their own rules, as a recent CPAG briefing shows.
Also EU/EEA citizens denied benefits for residency reasons are still entitled to support from the Scottish Welfare Fund which can make Crisis Grants, Community Care Grants and do foodbank referrals (however these SWF grants are often small and are not a substitute for a regular income).
There were some claimants attending the jobcentre who had recently been made unemployed. One described how he had been living off his savings since he was made redundant but that money was now gone. He was pleased to see a group like ECAP, stating that we needed a different society and that the pandemic had shown which work was of value to society…..however, he said, in this system the wealth disappeared up to the people at the top….
ECAP very much believes that day to day resistance should aim at challenging the profit-dominated capitalist system. As our principles put it, 'We aim to establish a truly democratic counter-power, pressurising authorities in the here and now and giving people a means to defend themselves in their daily lives, whilst simultaneously challenging the whole capitalist system, demanding and working towards a world without classes, borders and oppressive elites.'
In the here and now, we advise anyone made redundant to claim benefits right away, this could be Universal Credit but even if you are not entitled to Universal Credit, it may well be that you are entitled to contribution-based Job Seekers Allowance which is not means-tested, and so unaffected by savings, redundancy payments etc.
---
NOTES
Jobseeker's Allowance – Contributory/new style JSA is payable for six months. It is not means-tested, and it can be 'topped up' with means-tested Universal Credit (so, for example, there could be help with housing costs via Universal Credit housing element).
Benefit Calculators – work out what you are entitled to. Such as 'turn2us' or 'entitledto'
ECAP info for Migrants and on Settled Status
***** Note – the legal situation is liable to change and it is important to check the current situation *****
Rights of EU Citizens in Scotland
UK government on Benefits / Pensions for EEA/ EU/ Swiss citizens in UK
Citizens Advice on Benefits for EU Citizens
Citizens Advice on Staying in the UK after Brexit
Welfare after Brexit A Scottish government site