The DWP has plans to reform the way Universal Credit and ESA claimants are judged to be too sick for work, and too sick for work related activity. This includes going through a public consultation exercise before changing the law next year. In addition to gathering online comments from individuals, the Government organised meetings around the UK for interested groups and charities. For the whole of Scotland there was a single meeting in Edinburgh on 5th October. ECAP went along to leaflet the venue and show solidarity with claimants who will inevitably lose out from these changes. We discovered that the DWP had managed to gather a total of EIGHT people to its Edinburgh meeting to represent the whole of Scotland!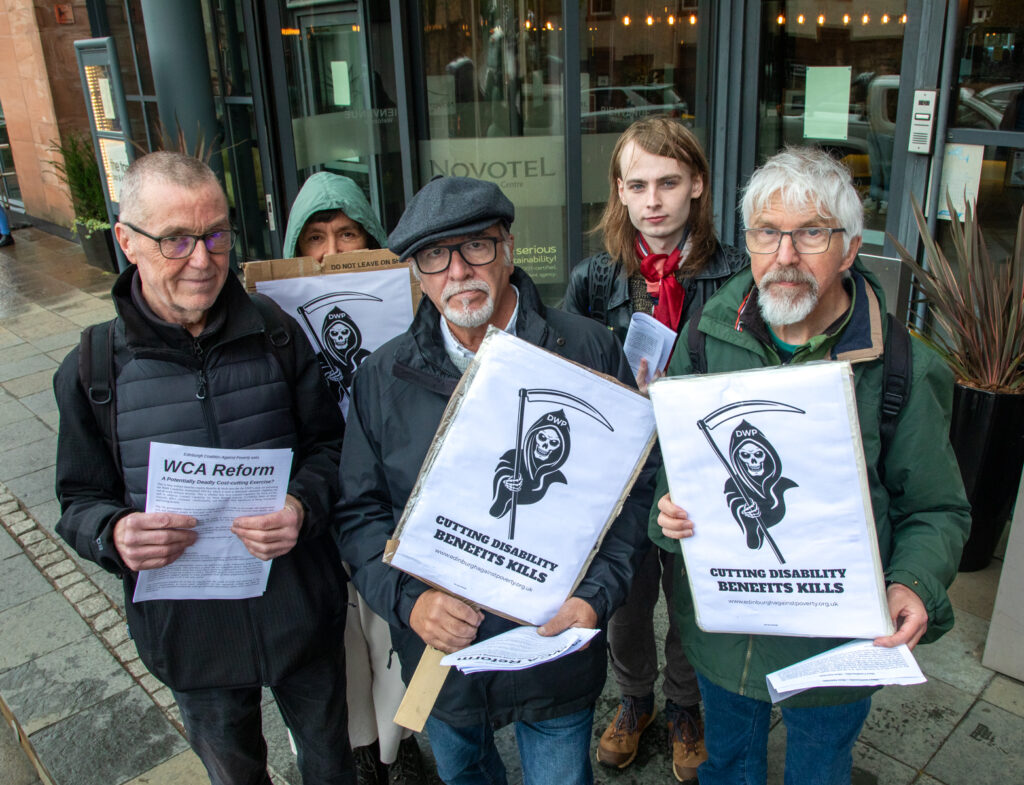 Below is the leaflet we were handing out which explains how the DWP's phoney concern for sick and disabled people is just a cover for introducing more sanctions and cutting benefits.
A Potentially Deadly Cost-cutting Exercise?
This is how welfare benefits experts Benefits & Work describe the DWP's plans for reforming the Work Capability Assessment (WCA), which is used to determine claimants' eligibility for out-of-work sickness benefits. That is, whether they have Limited Capability for Work (LCW) and in addition Limited Capability for Work Related Activity (LCWRA). Both of these crucially affect claimants' conditionality, and therefore their likelihood of being sanctioned and losing benefit.
The UK government claims it wants to change the rules in order to encourage and support more sick and disabled people to find paid work which, it asserts, will improve their health, well-being, independence and financial security.
But, when you look at the proposals, the reality is more that of yet another attempt to cut benefits, and to boost the conditionality of benefits for sick and disabled claimants which will increase the numbers getting sanctioned.
As a prelude to removing the WCA altogether, the DWP want to make it more like the PIP assessment. Eventually PIP, which is not designed to assess the problems people would face in a workplace, will be the only disability assessment.
The WCA activities under consideration for change next year are:
• mobilising;
• getting about;
• coping with social engagement;
• continence.
The Government is proposing to either:
• remove an activity for consideration entirely;
• make it harder to meet the criteria for LCWRA/Support Group eligibility;
• make it harder to meet the Limited Capability for Work (LCW) threshold generally.
In addition, it wants to substantially reduce the application of the 'Substantial Risk to Health' measure in the assessment. This provides a safety net for vulnerable people who do not score enough points for LCWRA status but where there would be a substantial risk to their mental or physical health if found not to have LCWRA. The DWP plans to either amend the definition to exclude claimants judged capable of some minimum level of work preparation, or remove the criteria entirely so that LCW is the only option.
The Government justifies all of this by arguing that the world of work, and accessing it, has improved significantly in recent years: employers are now apparently willing and eager to support sick and disabled workers by making reasonable adjustments, and to allow staff to work from home.
More Conditionality – More Sanctions
But we know this is far from the truth. It is not just that people's experience of trying to get effective 'reasonable adjustments' at work is of a process that is difficult and frustrating, with employers resisting any changes that are inconvenient or increase their costs. Or the deliberate deception by the DWP in asserting, without evidence, that there are many jobs available that could be done from home. Disabled workers know that there is very little help for them to cope with precarious and low paid jobs. The reality of claiming Universal Credit is not of being 'supported' but enduring a hostile environment designed to reduce both numbers of claimants and benefits regardless of the consequences for them in terms of poverty, stress and discrimination. The DWP continues to be in denial about this, just as it refuses to accept responsibility for the appalling record of claimant harm and suicides directly resulting from it.
As Benefits & Work say:
"The DWP's way of giving more people opportunity is to take away the additional £390 a month they receive in the LCWRA group and subjecting them to the threat of sanctions.
Because this proposal is, in reality, a huge and potentially deadly cost-cutting exercise.
If the government simply wanted to help more people attempt to work, they could easily do so just by guaranteeing a safe return to existing levels of benefits for anyone who tried working but was unable to sustain it. Support could be offered to prepare for work without any threat to benefits."1
Disability rights groups and activists have attacked the proposals
Disabled People Against Cuts (DPAC) said: "DPAC know how much fear this has caused amongst disabled benefit recipients… we will fight back against this new atrocity with everything we have."
John McArdle, co-founder of Black Triangle, has described the new plans as "horrifying", and said "people don't need to be bullied and tyrannised into work. There are ways to help people without holding a big club over their head."2
What sick and disabled people need is proper financial and practical support, not the fear of being threatened with stress and destitution. This is all part of a wider attack on all working-class people. Making the social security system more precarious undermines all workers' wages and conditions.
ECAP opposes all conditionality (putting conditions on social security) and all sanctions on principle. Everyone should have the right to what they need to live well. Universal Credit is already a punitive system paid at poverty levels – these attacks make it even worse and we need to resist them as part of the struggle to reclaim the world's resources for the world's people.
(1) https://www.benefitsandwork.co.uk/news/consultation-on-slashing-support-group-launched-by-dwp
(2) https://dpac.uk.net/2023/09/disability-news-service-7th-september/